How To Properly Clean Your Derma Roller...
PLEASE TURN ON YOUR SPEAKER
Follow the instructions outlined in the above video to fully clean your derma roller. Be sure to stay away from using a spray bottle filled with alcohol. Such a practice is not an approved method for cleaning any device to be used on your skin.

Remember, the easiest way to prevent germs from causing you harm is by thoroughly washing your roller heads before and after you use them.
STEP 1 - Warm Water Rinse
Always clean your derma roller before and after using it. This is what makes the biggest difference between a quick and speedy recovery versus outbreaks and negative reactions.


Before using your derma roller, wash it with warm running water for a few seconds. Then disinfect it with rubbing alcohol. 70% at the least.
After a good rinse, lightly shake off the water, then go to Step 2...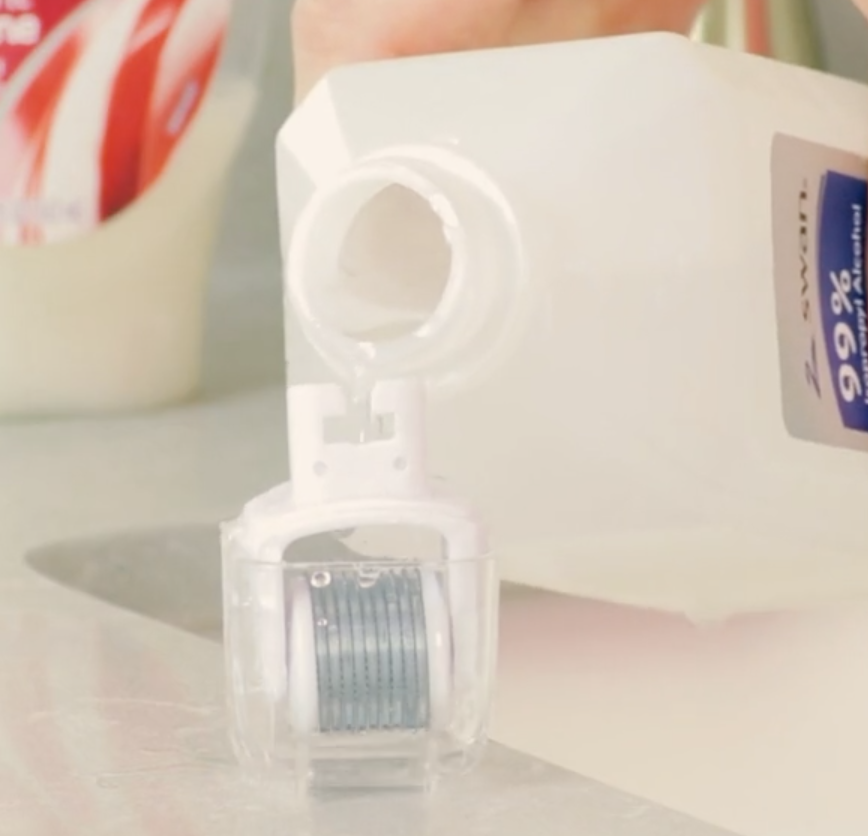 STEP 2 - Fill / Soak Roller Heads
To clean your derma roller, use the included plastic casings for each microneedle roller head, stand the case upright and fill with rubbing alcohol until all needles are completely submerged.
To clean your derma roller, use rubbing alcohol that contains approximately 90 percent of pure, concentrated ethanol or isopropyl alcohol. You can purchase one at your local pharmacy, or you can purchase one from Amazon.com.
Allow to sit for at least 10 minutes.
I included some favorites below that I recommend using.
STEP 3 - Rinse / Air Dry
After soaking the dermaroller heads, rinse with warm water and allow to air dry.
Don't let the needles touch the counter top surface (as that would only spread germs and bacteria again).
Instead, keep the roller heads inside their casings both during cleaning and while drying. Giving them their space will make it easier to keep them safe from germs and bacteria, but also from getting damaged while not in use.